Deprecated
: Function create_function() is deprecated in
/home/granitn5/public_html/web-americancartequipment/wp-content/plugins/wp-spamshield/wp-spamshield.php
on line
2033
There's been quite a bit happening in the world of American Cart!  2017 saw the introduction of new and updated carts along with a mid-year catalog refresh.
As we look back at 2017, the Hose Storage Rack and the Tent Stake Storage Rack have been hits!  We've got even more up our sleeves for 2018.  The first change is our name.  We will be transitioning from The American Cart and Equipment Company to The American Cart and Rack Company.
WHAT'S IN A NAME?
American Cart and Equipment was established in 1997 by Granite Industries.  The primary commitment was to provide heavy duty hand trucks and contractor grade equipment.  Over the last twenty years we watched the hand truck side of the business grow in ways beyond our initial scope.  The equipment side never quite caught its footing.  As of the 2017 catalog there were only three equipment items still under the American Cart and Equipment name.  The three items were: the drywall lift, the aluminum ramps, and the blue dollies.  These items have moved over to our Granite Industries brand.  Specifically they are listed as utility products.  They can be found in our Contractor Catalog.
As the equipment side of the business was becoming less relevant to American Cart, the racking side of American Cart was flourishing.  We were discovering noticeable growth in every warehouse racking product in our line up.  Not only that, but were were getting requests for more styles and designs.   American Cart started with just a couple racking products focused on chair and table storage but it now includes the following: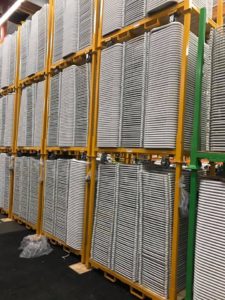 This is just a list of the racks that are formalized for the catalog.  We have had additional requests for custom racking and designs.   All that to say, racking has become a cornerstone of the American Cart product line and equipment has become less relevant.   Thus the transition to American Cart and Rack.  The new brand name better describes the products and focus of the line.

WEBSITE UPDATE
The home site for American Cart and Equipment was: www.americancartandequipment.com
The new home site for American Cart and Rack is: www.americancartandrack.com
The official online store for American Cart and Rack is still: store.graniteind.com
Stay tune for more updates in the month of December!
Download: Tent Stake Rack PDF
Download: American Cart Hose Storage Rack PDF
Visit Granite's Homepage: www.graniteind.com
Phone: 877-447-2648
Email: support@graniteind.com