Deprecated
: Function create_function() is deprecated in
/home/granitn5/public_html/web-americancartequipment/wp-content/plugins/wp-spamshield/wp-spamshield.php
on line
2033
2017 has been an active year for American Cart. There's been new carts introduced and an updated catalog! Here are some of the latest developments and promotions from American Cart!
The July 4th Promotion runs from Thursday, June 29th through Wednesday, July 5th.  Save an extra 4% off on all products online.  The promo code is: america – Shop Granite's Online Store
---
The latest American Cart Catalog features updated product photos and information.  Also included are some of the newest products from American Cart.

American Cart Catalog Highlights
Updated Specs – Weights and dimensions have been revised.
Mega Hauler – 15″ Flat Free Flotation Tire Option  (pg. 5)
Mantis – Revised Rear Panel (pg. 7)
Mantis Chair Pallet – Revised design (pg. 7)
Steel Hub Wheel Upgrades – New info and photos (pgs. (8-10)
X Country Wagon – 15″ Flat Free Flotation Tire Option (pg. 16)
Chiavari / X-back Cart – Use the cart for either chair (pg 19)
Drywall Stud Rack – Designed to manage and store stud racks (pg 22)
Tent Stake Rack – Designed to store tent stakes (pg 23)
Hose Rack – Designed to store large intake or discharge hoses
Download: American Cart Catalog
---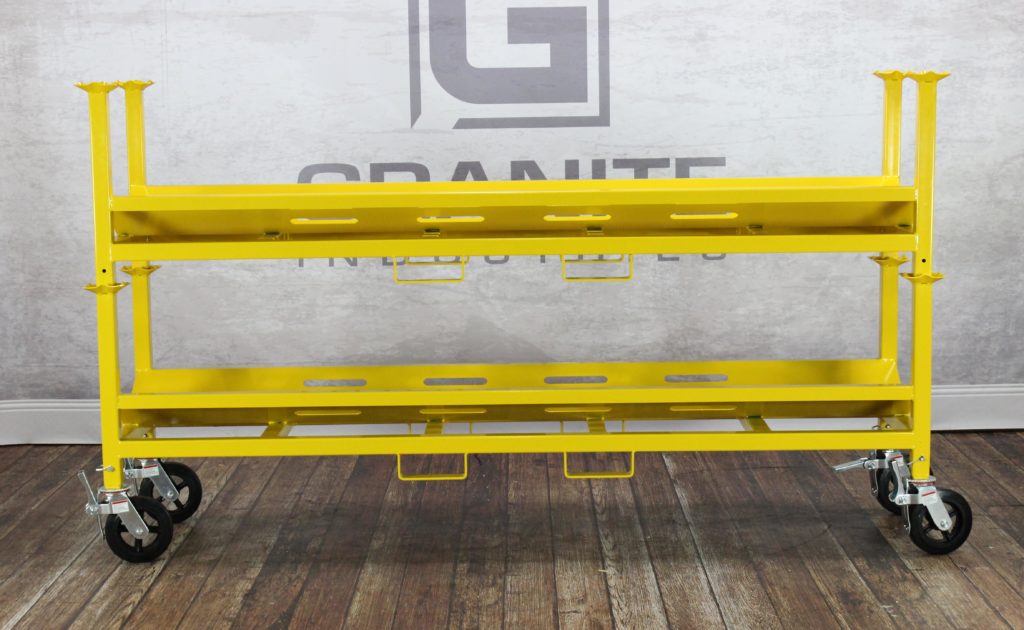 Keep your hoses stacked neatly and safely with Granite's hose cart storage rack. The channeled center pan allows the rolled hose to rest in a vertical position and stacked side by side.
Heavy Duty construction
Stack up to three units high (Limit 2,000 lbs on casters)
Two different heights for optimal storage (33 inch and 39 inch legs)
Two different lengths for optimal footprint (8 feet or 5 feet)
Four locking 8″ swivel casters that allow for easy rolling.
Built in tow motor pockets for easy lifting and stacking.
Visit online:
American Cart Hose Rack – 33″ Legs
American Cart Hose Rack – 39″ Legs
Download: American Cart Hose Storage Rack PDF

---

Tent stake storage can be quite the issue for many tent rental companies. The Tent Stake Rack from American Cart is designed to tackle that exact issue. We took input from the tent industry and put together a solution that maximizes storage and versatility. Built from the ground up on an all-steel chassis, the carts are built to withstand over 100 tent stakes (2 inch heads, 24 inches long, 10 lbs each).
Easily load tent stakes in the cart, alternating end for end.
E-ratchet strap brackets are built into the cart. This adds another level of security to the load and can aid in quicker loading and unloading.
E-Track ratchet straps are not included with the cart but can easily be added.
Stack tent stake racks up to three high (limit 1,500 lbs on casters)
Optional rolling base improves rack maneuverability.
Fork lifts can easily get its forks under the unit to make the units easily transportable in a warehouse.
Visit online:
Tent Stake Rack – 23″ Legs
Tent Stake Rack – 39″ Legs
Tent Stake Rolling Base
Download: Tent Stake Rack PDF

Shop Online: store.graniteind.com
Visit Granite's Homepage: www.graniteind.com
Phone: 877-447-2648
Email: support@graniteind.com